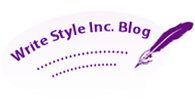 Write Style Design Studio
Phone: 443-226-6631
Baltimore, Maryland 21208
Call for an appointment to visit our Design Studio
Distributor of the
Place Card Butler
Write Style Inc. Holiday Collection features Unique Holiday Cards and Invitations: Thanksgiving, Christmas, Winter, New Years, Valentines Day, Oktoberfest, and Halloween invitations.

Our unique Holiday Invitations and Holiday Cards start at $2.00 each; Minimum quantity of 50. Call for pricing and order information.


If there is something special that you would like, Write Style Inc. will design and create it for you- The holiday card or invitation will be "Uniquely Yours!"